DIFS is CEU Preferred Program Provider recognized by International Sports Sciences Association (ISSA),one of the most prestigious fitness education providers worldwide.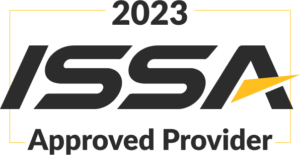 Established in 1988, the ISSA is dedicated to standardizing and enhancing the credibility of fitness education and certification for professionals such as fitness trainers, strength and conditioning coaches, nutritionists, and medical professionals.
As an education and certification institution, the ISSA offers a comprehensive range of fitness courses, including ten specialized certification courses such as fitness nutrition, sports nutrition, strength and conditioning, and exercise therapy.
With this Provider Program, DIFS's educational programs are now further strengthened to meet the ISSA's Model of Excellence.
DIFS is thrilled to have received the ISSA approval for Preferred Provider Program, recognizing our commitment to providing high-quality fitness education programs.
Upon finishing one of our fitness educations programs (Level 4 or Level 5) you will be rewarded with 20 CEU (continuing education credit).
More about ISSA Preferred Provider Program read on the following link.