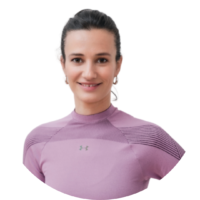 Jelena Skender
Master's Degree Kinesiology - University of Zagreb
Module: Exercise fundamentals and Anatomy Basics 
Jelena is an expert on authentic movement. She is a trainer with more than 15 years of experience in working with coaches and recreational athletes of different ages (children, teenagers, retired persons, pregnant women and mothers)
She is the mother of the girl Krista Anastasia and true lover of movement.
She obtained her master's degree in kinesiology in 2009 and has not stopped professional specialization since then. She is the only person in Croatia who completed her education with bio mechanic Katy Bowman, and acquired the title of Certified personal trainer – Restorative Exercise Specialist. In his work, he encounters various challenges of a sedentary lifestyle, which he wants to change in a practical and easily applicable way by motivating others to move.
Since 2012, she has started being in entrepreneurial waters and opened the first boutique movement studio called "studio Vježbaonica". She is the creator of the first comprehensive education called Active Natal Foundation for Exercise in Pregnancy and After Pregnancy, as well as the eponymous program for exercise in pregnancy.
She has participated in various conferences, seminars and trainings as a lecturer and instructor.
She leads live trainings in the Gym area through individual consultation hours, and online through the program called Active Natal.
Jelena believes that the humans are whole beings who, through their innate balance of body, mind and heart, have the potential to enjoy a purposeful, vital and healthy life.
Education and certifications:
Master's Degree in Kinesiology – University of Zagreb
Restorative excercise specialist
Education for prenatal and postnatal specialist at BodyReadyMethod
Professional YogaTeacher at Hearth and Bones yoga