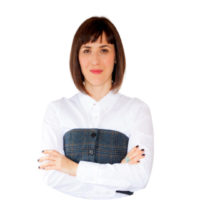 Sandra Krstev Barać
M.Sc. Nutrition - University of Zagreb
Module: Nutrition for Fitness and Optimal Body Composition
Sandra Krstev Barać is a Master of Science in Nutrition with over 15 years of experience in nutrition consulting as well as educating the public and health professionals on the interplay between our nutrition and health. In parallel with Faculty of Food Technology and Biotechnology, Department of Nutrition,  she graduated from Faculty of Economics in Zagreb. However from the first day her passion was and is Nutrition, so that's the field she dedicated her successful career.
In 2019. she became the first practitioner of functional medicine in Croatia undergoing certification by prestigious Institute for Functional Medicine. The year after she opened her private practice where she helps clients discover and understand root of illness, offering them in-depth custom health programs.
In her work she advocates a holistic approach to health.  She is also widely recognized advocate that strives to raise awareness on how our lifestyle and environment create the imbalances that are underlying causes of diseases.
Education and Certification:
Sc. Nutrition (University of Zagreb)
Master of Economics (University of Zagreb)
Functional Medicine practitioner